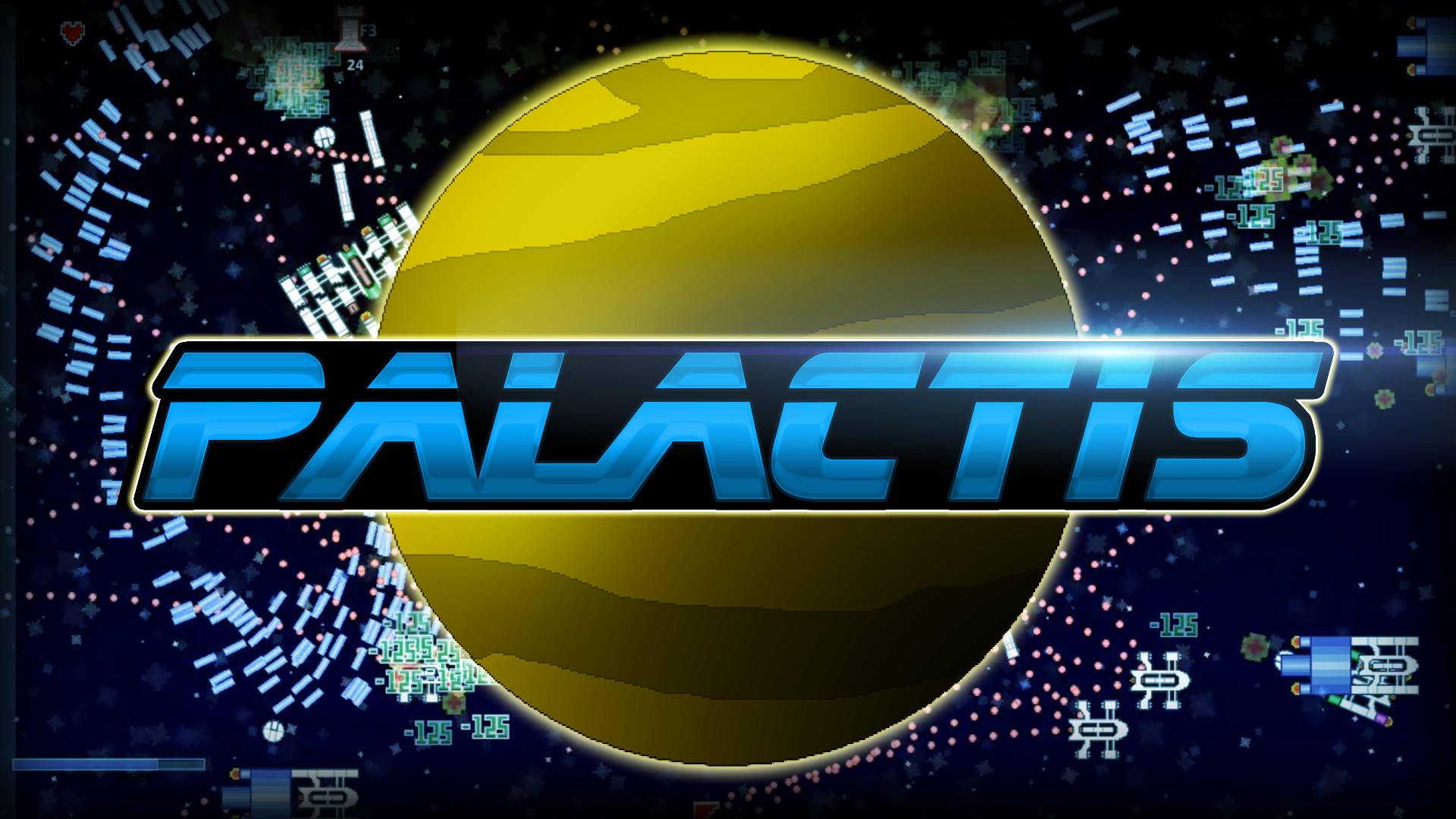 Palactis
A downloadable game for Windows
DESCRIPCIÓN EN ESPAÑOL (English description is next to this one)
ENGLISH DESCRIPTION (La descripción en español está al lado de esta)


En el año 2834, la Tierra, que se está deteriorando, inicia una guerra contra Palactis, un planeta amarillo y habitable. Al rededor de 100 habitantes de ambos planetas son enviados a batallar en el espacio, y un gran porcentaje de ellos muere. Tú, que eres encarcelado por matar a una persona, eres enviado a batallar en el año 2835, y tu misión es alcanzar Palactis y apoderarte del planeta.
¡Avanza por el espacio y destruye naves que pueden alcanzar los 15km²! ¿Serás capaz de sobrevivir? ¡Desbloquea los 10 finales del juego!

Historial de versiones:

1.0:
- Publicación del juego.

1.02:
- Se agregaron nuevos efectos, junto con sus opciones para activar o desactivar en las opciones del juego.
- Se corrigió un error que hacía que se perdieran los datos de los finales desbloqueados.
- Se corrigió un error que impedía que el jefe 7 definitivo hiciera daño con los láseres de sus portales en su tercera fase.

1.1:
- 25 items nuevos.
- Errores con items activos corregidos.
- Agregado el Modo Multijugador.
- Agregado el Modo Masacre.

1.12:
- Cambiado un efecto del menú que podía causar epilepsia.
- Íconos de Ultra Items animados.
- Efecto de barras negras al encarar un jefe.
- Botón "Continuar" agregado.
- Agregadas 15 canciones, siendo ahora un total de 35.
- Errores corregidos.
- Reducido el tamaño del archivo significatvamente.

1.2:
- Agregado el Modo Versus (multijugador).
- Íconos de TODOS los Items animados.
- Nuevo ataque para la nave enemiga "Abejorro".
- Ataque de la nave enemiga "Portero" rehecho.
- Puntuaciones agregadas.

1.24:
- Recreado el ataque del jefe 5.
- Resumen de puntuaciones añadido en el menú
- Ya se puede ver en el menú la cantidad de finales desbloqueados y la cantidad de victorias contra Tetranave.
- Se hizo más cómodo el mostrar la barra de vida de los jefes.
- Más música.
- NUEVO ÍCONO DEL JUEGO.
- Ya casi está hecho... faltan dos actualizaciones para terminar el desarrollo.

1.3:
- Agregadas las dificultades.
- Se mejoraron los Items de complemento (click).
- Agregado el oscurecimiento de fondo en niveles planetarios.
- Agregadas las habilidades de nave.
- Agregados los gestos.
- Agregadas extensiones orbitantes para algunos Items.
- Agregada la tienda de cuadros.
- Actualizada la Itempedia.
- Mejorado el Mapa Versus.
- Agregados nuevos sonidos y 10 canciones.
- Se corrigieron algunos errores.

1.31:
- Se agregaron los logros (30).
- Se reemplazó el Item "Creador de Errores" por "Muchas Gracias".
- Se disminuyó la duración del tutorial.
- Se agregó algo... especial... en los créditos VIP.
- Cuando un Item, corazón o energía está cerca del jugador, se dirigirá a él.
- Se corrigieron todos (o casi todos) los errores.
- Se corrigió el error que causaba que no se sumaran las victorias contra Tetranave.
- Se corrigieron errores con Items en el Modo Campaña (con y sin Modo Multijugador), Modo Masacre y Modo Infinito (Arcade).
- Se disminuyó el tamaño de la hurtbox del jugador y los multi-jugadores.

1.31B:
- Solucionado un error con la música de fondo.
In 2834, the Earth, which is deteriorating, starts a war against Palactis, a yellow and habitable planet. About 100 habitants of both planets are sent to battle in the space, and a big percentage of them die. You, who are jailed for killing a person, are sent to the battle in 2835, and your mission is to reach Palactis and seize the planet.
Advance through the space and destroy ships that can reach the 15km²! Will you be able to survive? Unlock the 10 game endings!

Versions history:

1.0:
- Game posted.

1.02:
New effects were added, with their options to activate or deactivate in the game options.
- An error that caused the unlocked endings data get lost was fixed.
- An error that caused the boss 7 definitive didn't make damage with its lasers' portals in its third phase was fixed.

1.1:
-25 new items.
- Active items issues fixed.
- Multiplayer Mode added
- Massacre Mode added.

1.12:
- Changed a menu effect that could cause epilepsy.
- Ultra Items' icons animated.
- Black bars effect when facing a boss.
- "Continue" button added.
- 15 songs added, now it's a total of 35.
- Fixed errors.
- Reduced the file size in a significantly way.

1.2:
- Versus Mode added (multiplayer).
- ALL Items's icons were animated.
- New attack for the enemy ship "Abejorro".
- Enemy Ship "Portero"'s attack remade.
- Scores added.

1.24:
- Boss 5's attack remade.
- Scores summary added in the menu.
- It's now possible to see the amount of unlocked endings and the amount of victories against Tetranave.
- Showing the bosses' healthbar is more comfortable.
- More music
- NEW GAME ICON.
- It's almost done... there are two updates left to end the development.

1.3:
- Difficulties added.
- Complement Items (click) were buffed.
- Background darkness added on planet levels.
- Ship skills added.
- Emotes added.
- Orbitant extensions for some items were added.
- Pictures shop added.
- Itempedia updated.
- Versus Map updated.
- New sounds and 10 songs were added.
- Some errors were corrected.

1.31:
- Achievements added (30).
- Replaced Item "Errors Creator" with "Thank You".
- Tutorial is now shorter.
- Something... special... was added to the VIP credits.
- Items, hearts and energy will follow you if you're too close.
- Fixed all known bugs.
- An error that caused the victories against Tetranave not to update was corrected.
- Errors with Items in the Campaign Mode (with and without Multiplayer Mode), Massacre Mode and Infinite Mode (Arcade) were fixed.
- Player and multi-players's hurtboxes are now considerably smaller.

1.31B:
- Solved an bug related to the background musics.


| | |
| --- | --- |
| Status | Released |
| Platforms | Windows |
| Release date | Nov 10, 2017 |
| Rating | |
| Author | A Random Games Company |
| Genre | Shooter |
| Made with | GameMaker: Studio |
| Tags | 16-bit, Boss battle, Bullet Hell, Difficult, Local Co-Op, Multiple Endings, Post-apocalyptic, Roguelike, Shoot 'Em Up, Top down shooter |
| Average session | A few hours |
| Languages | English, Spanish; Castilian |
| Inputs | Keyboard, Mouse, Xbox controller |
| Accessibility | Interactive tutorial |
| Multiplayer | Local multiplayer |
| Player count | 1 - 5 |
| Links | Facebook |
Install instructions
INSTRUCCIONES DE DESCARGA (English next to this)
DOWNLOAD INSTRUCTIONS (Español al lado de esto)
- Descargar el instalador y ejecutarlo.
(Algunos antivirus pueden alertar que el instalador es un malware y que no se debería ejecutar, si esto pasa, ejecutar el instalador de todas formas).

- Leer y aceptar terminos y condiciones (Están en inglés, puedes traducirlos). Click en "I Agree".

- Elegir si crear un acceso directo en el menú de inicio y crear un acceso directo en el escritorio. Click en "Next >".

- NO cambiar el directorio en el que se instalará el programa. Click en "Next >".

- Click en "Install" y esperar a que el programa se instale.

- Click en "Finish".

- ¡Jugar!

- Download the installer and run it.
(Some antivirus may alert that the installer is a malware and shouldn't be executed, if that occurs, run the installer anyway).

- Read and accept the terms and conditions. Click on "I Agree".

-Choose whether creating a start menu shortcut and creating a desktop shortcut. Click on "Next >".

-

DON'T change the directory in which the program will be installed. Click on "Next >".

- Click on "install" and wait until the program is installed.

- Click on "Finish"

- Play!

Comments
Log in with itch.io to leave a comment.
Gran juego, adictivo y sencillo de entender :D, y los sprites son hermosos :3
Realmente agradezco que dieras a conocer tu opinión sobre el juego :)

lo bueno se debe dar a conocer :D, lastima que la gente no sepa ver mas allá de la portada